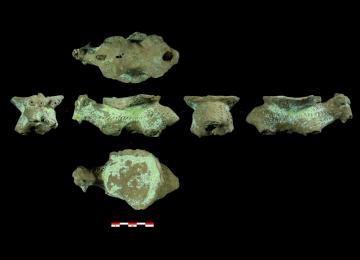 Avant la construction par GRTgaz d'une canalisation de transport de gaz reliant la Méditerranée à la mer du Nord et passant notamment par la Champagne, l'Inrap a réalisé en juin-juillet 2014 une fouille sur 1 469 m2 à la sortie sud de La Villeneuve-au-Châtelot (Aube). L'opération a permis d'étudier des structures en creux antiques, ainsi que la partie orientale d'une ferme entourée de fossés datée du Moyen Âge.
UNE OCCUPATION DU HAUT-EMPIRE TRÈS PERTURBÉE
L'occupation antique consiste en 124 faits anthropiques associés aux années 30-35 à 65-70 apr. J.-C. La majorité sont des fosses, trous de poteau et tronçons de fossé, mais on trouve aussi un puits, un silo, et des ornières. La plupart se concentrent dans la partie ouest d'une emprise déjà très étroite (10 m au plus large) : il est très probable que la quasi-absence de faits antiques dans la moitié est soit due à une destruction par le creusement des fossés successifs ceignant l'occupation médiévale ultérieure. L'organisation spatiale de l'occupation antique nous échappe ; aucun plan de bâtiment n'a été identifié. Le mobilier recueilli oriente vers une activité agro-pastorale. Cette interprétation est confirmée par les données carpologiques, qui indiquent une polyculture des céréales d'hiver et d'été.
Read the rest of this article...